The highest graded Detective #27 in existence!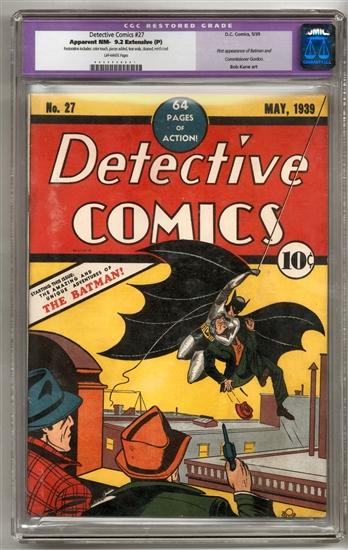 $245,000.00 Add to Cart
Issue Synopsis
In his first case, the Bat-Man investigates the murder of a chemical tycoon, discovering that one of his partners murdered him to steal the secret contracts that would leave him as the sole owner of the Apex Chemical Corporation.
Detailed Description
Restoration includes: Color touch, pieces added, tear seals, cleaned, reinforced. The only acceptable method of payment for this book is a bank wire. We would also consider trading for higher end Golden and Silver age keys.
Comic Book Legend Neal Adams on BestInComics.com:
"The team at bestincomics.com are some of the most genuine and honest people I have met in all my years in this industry. If I was going to buy or sell a comic - they would be my first call."
-- Neal Adams